Is Google Site Kit really necessary for your WordPress website?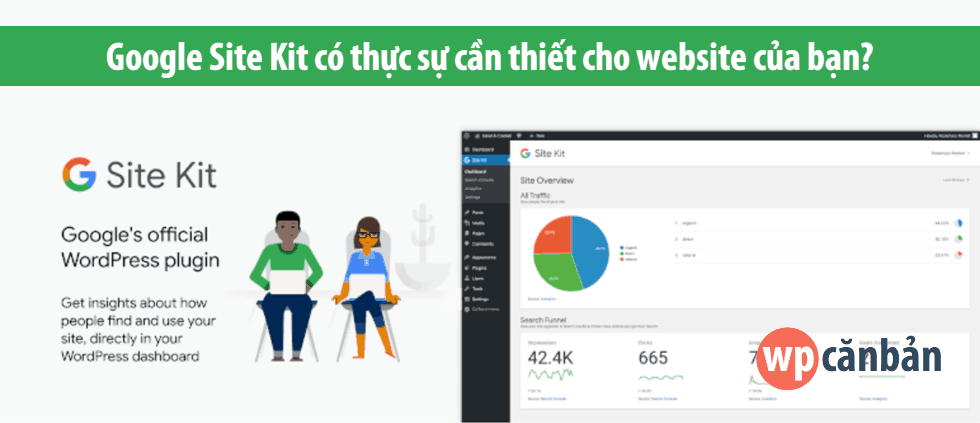 Recently, on forums, social networking groups about SEO in particular and WordPress in general, there are a lot of debates related to Google Site Kit – a new, all-in-one plugin, developed by Google specifically for the platform. WordPress platform. Many of you have also asked me to write a review about this plugin. So what is the Google Site Kit and is it really necessary for your WordPress website? Today's article will give you the answer.
Explore more:
What is Google Site Kit?
As you know, Google provides many different services for websites (Google Search Console, Google Analytics, Google AdSense, Google PageSpeed ​​Insights…) and most of them are free. Google Site Kit combines them all into a single plugin, making it simpler for users to exploit these services.
Google Site Kit includes the following services:
Search Console: understand how Google Search discovers and shows your pages in Google search results. Track how many people viewed your site in search results and the queries they used to find your site.
Analytics: discover how users navigate your site and track the goals you've set up for users to complete.
AdSense: track how much money the site has earned you from Google ads.
PageSpeed ​​Insights: see how your pages perform compared to other websites in the real world. Improve site performance with tips from PageSpeed ​​Insights.
Tag Manager: use Site Kit to easily set up Tag Manager without editing code. Then manage your tags in Tag Manager.
Optimize: use Site Kit to easily set up Optimize without editing code. Then set up an A/B test in Optimize.
Is Google Site Kit really necessary?
If someone asks me at this moment, the answer is "are not". Why so?
The Site Kit for WordPress interface and features are currently in its infancy. They lack a lot compared to when you use the administrative interface of these services on Google's website. Take a look at the screenshot below.
Site Kit can give you an overview of the basic parameters of the website. However, that alone is not enough for you to trade off performance. When Site Kit is installed, your WordPress Admin will have to load an additional database (JS, CSS, images…) => consumes host resources => affects the overall performance of the website. Your website will load slower and be less responsive. I removed Site Kit from wpcanban.com just 5 minutes after I installed it.
If you intend to test to see if what I just said above is correct, you can download and install the Google Site Kit plugin. here. Hopefully, in the near future, Google will be able to create a breakthrough for Site Kit to really attract users.
And you, how do you rate the Google Site Kit plugin? Are you using it on your website? Let us know your views and opinions in the comment box below.
If you liked this article, please subscribe to my blog to regularly update the best and latest articles via email. Thanks very much. 🙂